I judge all headlight repair kits (and there are a LOT of them) by the final coating they supply. Any kit can give you sandpaper (and many don't), compound and maybe a wax coating, but they don't tell you much about the coating and how long you can expect it to last.
Now, no coating is going to last as long as the original but you shouldn't have to re-polish your headlights every couple of months, right? Why buy a kit with an anonymous coating? That's what it's all about - the final finish.
This kit by Philips; a well known headlight bulb aftermarket manufacturer - yep, the very same one; tells you, right on the front, in bold type that the final coating will last 2 years. Wow! Even if it goes for a year, that's superior to most coatings offered in other kits.
I've used the kit and found that it works very well. About 45 minutes to an hour's work and you're done. No real experience necessary. And the coating? Easy, wipe on, no streaks. Most other coatings are streaky or you have to mask off the surrounding area and spray on a Urethane Clear Coat (see SEM Urethane Clear Coat). Not this one. 3 easy coats and a little time to cure in the sun. Yep, it's been at least a year now and I'm happy.
I had enough chemistry left to do the side marker lights and taillights too. Or you can add a little sandpaper and do up to 4 sets of headlights with what's in the kit. The sandpaper is the only limiter.
What Philips has to say ...
Philips Headlight Restoration Kit with UV Protection can restore clarity and focus to your headlights in less than 30 minutes. See clearly. Drive safer.
Yellow, hazy headlight lenses are an eyesore and a danger to drivers and passengers. Philips Headlight Restoration Kit takes the haze away, restoring headlights to like-new condition and finish.
Removes haze and yellowing from sun and dirt

With the Philips Headlight Restoration Kit you can now restore your headlights to like-new condition and finish. Philips offers high quality products for more safety and a this is an excellent tool to provide safer night-time driving. The Philips Headlight Restoration Kit can make your headlight lenses up to 100% brighter with less glare.

Extremely simply to use

Compared with other kits that require power tools, our advanced technology delivers excellent results with minimal effort and is extremely simple to use. In four easy steps, you can achieve professional results with no power tools needed.
High quality and cost-effective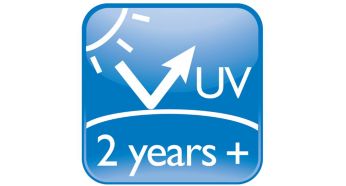 UV coating technology: restore rather than replace
Instead of replacing your headlight lenses, this treatment with a UV coating technology restores your headlights to like-new condition.
4 Easy steps to restore your headlight lenses
Step 1. Clean with water-based pretreatment.
Step 2. Sand with 600, 1500 and 2000 grit sandpaper.
Step 3. Polish with headlight/ cleaner polish.
Step 4. Apply UV restorer/ protector. Dries in 10 minutes.
Item #672
OEM: Philips
$24.95 USD